TOP
Sideways - Rex Pickett Event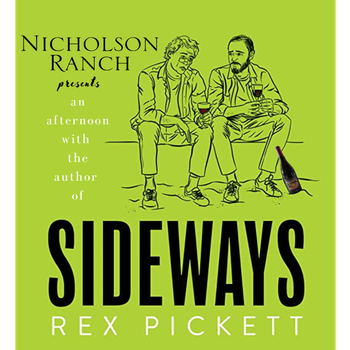 As a lover of Pinot Noir, you no doubt remember the movie Sideways, the 2004 Oscar-winning film, starring Paul Giamatti and Thomas Haden-Church as the now iconic Miles and Jack. The blockbuster film not only increased the popularity, of the then little-appreciated grape variety Pinot Noir – and cratered the over-popularity of "Effing Merlot!" – but it also made going wine tasting hip, fun, and exciting.
With the 20th anniversary of the film approaching in October of 2024, Blackstone Publishing is releasing a collector's edition of Sideways the novel, never before published in hardcover.
Nicholson Ranch Winery is proud to present an evening with the writer who created the Sideways universe, author Rex Pickett.
Come celebrate with us and meet Rex, Sunday March 12th. Join us in an intimate wine-tasting experience as we hear Rex regale us with inside stories about writing the book and his various novel sequels. You are invited to sip exceptional Nicholson Ranch Pinot, enjoy hors d'oeuvres and a no-holds-barred, bared-soul, question-and-answer session with Rex.
Tickets are $125 per person and include a wine tasting and hors d'oeuvres experience. Members who have been with Nicholson Ranch for over five years receive a 50% discount on two tickets.
Each member will come away with a complimentary signed and inscribed copy of the collector's edition Sideways novel, appropriately paired with a bottle of vintage Nicholson Ranch Cactus Hill Pinot Noir. Rex would be delighted to sign each bottle as well.
If you are unable to attend the event, but interested in a signed and inscribed copy of the book, we invite you to visit rexpickettbooks.com.